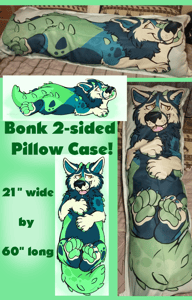 $

65.00
About this Pillow Case
The pillowcase is 21" x 60" and it does not come with a pillow. It is a pillowcase with an open bottom (no zipper).
The pillowcase is made of 100% polyester with a smooth, silky feel, machine washable!
It is a 2-sided design. You will get both illustrations, (side 1, Bonk laying on his tummy, and side 2, Bonk laying on his back) on one pillowcase.
The design is "safe for work" and is able to fit other dakimakura pillows, should you like this as a new design to look at! If you do not already have a pillow, royalpillow.com has many filling options in the size needed for this pillowcase! It will also fit pillows of a similar size, such as this kind of pillow with a little extra room.
This listing is for 1 (one) pillowcase featuring this full-color art of Bonk illustrated by Sara "Matrices" Howard.